Terms & Condition for MYDEBIT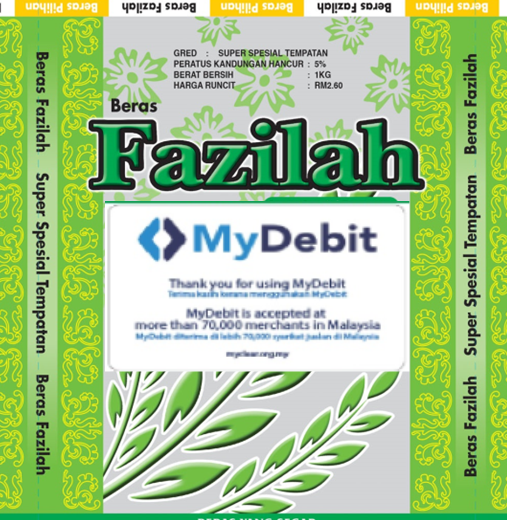 MYDEBIT CARD REDEMPTION EVENT ("PROMOTION") - English
Scroll Down for Bahasa Version
PROMOTION TERMS AND CONDITIONS
ORGANIZER
1) The Promotion is
organised
by MALAYSIAN ELECTRONIC CLEARING CORPORATION SDN.
BHD. (Company No.836743-D) ("MyClear") and NSKTRADE CITY SDN BHD (Company No.
626470-P) ("NSK") (collectively referred to as "Organizers").
2) By participating in the Promotion, Participants (as defined herein) are taken to have read,
understood and agreed to abide by and be bound by these terms and conditions of the
Promotion, the Data Protection & Privacy Notice as detailed below, and all amendments,
additions, replacements deletions and modifications
here to
("Terms and Conditions") as may be 
made from time to time by the Organizers and be bound by them and abide by the decision of 
the Organizers.

PROMOTION PERIOD
3) The Promotion Period is from 00:00 hours (GMT+8) on 10th June 2017 until 23:59 (GMT+8) hours on 31st August 2017 (both dates inclusive).

ENTRY ELIGIBILITY
4) This Promotion is open to NSK's customers who are spending and pay their purchases at NSK's outlets using MyDebit via ATM cards issued by MyDebit Participating Financial Institutions in Malaysia ("Customer"). Only Customer who are eighteen (18) years of age and above and have a valid identification document (example: identity card or passport) are eligible to participate in the Promotion ("Participant").

5) A Participant must also have an account with the MyDebit Participating Bank which is valid, non-dormantand in good financial standing, during the promotion Period up until redemption of the Promotion Prizes. Participants shall comply with the eligibility requirement above in order to be an "Eligible Participant".

QUALIFYING CRITERIA
6) A purchase made by Eligible Participant via MyDebit with a minimum amount of Ringgit Malaysia One Hundred (RM 100.00) and above in a single receipt at any of NSK's outlet is eligible for the Redemption Program. However, only MyDebit contact and contactless transactions are accepted as eligible for the Redemption Program.

7) The transaction must be made during the Promotion Period and comply with the eligibility and qualifying criteria mentioned herein, in order to be considered as eligible for the Redemption Program. Transaction made/ received outside the Promotion Period will not be acceptable.

PROCESS FOR PRIZE REDEMPTION
8) Customer shall refer to the purchase receipt to ensure that they are eligible to redeem the Prizes as mentioned under Item 11. The redemption must be made within the same day at the same NSK's outlet where the Customer made the MyDebit transactions.

9) Each Eligible participant can only redeem a maximum of two (2) bags of rice packet i.e. 1kg weight of rice packet for every MyDebit transaction of RM100.00 in a single receipt regardless of the total amount of the receipt and subject to the eligible and qualifying criteria mentioned herein.

PRIZES
10) A bag of 1kg rice is redeemable for every MyDebit transaction of RM100.00 and above in a single receipt.

11) Eligible Participant can only redeem a maximum of 2 bags of rice (1kg rice of each packet) for every single receipt.

12) Unless otherwise specified in the terms and conditions herein, no substitution or replacement of, or modification to the Prizes requested by Participant will be permitted.

13) Exchange of Prizes for cash are not allowed.

14) The Organizer reserves the right to substitute or replace the Prize offered in this Promotion with a similar valued price The Prize with another item of similar value without prior notice.
General Terms and Conditions
15) The Organizer shall be entitled to amend, vary, delete or add to any of these Promotion Terms and Conditions and/or to modify, cancel, terminate or suspend the Promotion at any time without giving prior notice. No compensation in cash or any kind shall be given for any losses or damages suffered or incurred by the Eligible Participants as a result of the above.

16) To the fullest extent permitted by applicable laws, the Organizer offer no warranty or representation whatsoever, express, implied or statutory, in relation to the Promotion, the Prizes including, but without limitation, the merchantable quality and fitness for purposes in respect of the Prizes.

17) The Organizer shall not be liable and responsible nor shall accept any liabilities of whatsoever nature howsoever arising or suffered by any Eligible.Participants resulting directly or indirectly from this Promotion.

18) By Participating in the Promotion, Eligible Participants give their consent to and authorize the Organizers to collect, use, process their names, masked Identification Numbers (IC) and other particulars ("Personal Data") for the purpose of running the Promotion, including but not limited to announcing and publishing Personal Data and/or photos of Eligible Participant at the Organizers' website for advertising and publicity purposes.

19) All decisions made in relation to the Promotion shall be final, conclusive and binding.
20) By participating in the Promotion, Eligible Customers agree to be bound by the Terms and Conditions herein. The Promotion Terms and Conditions contained in the Organizer's website 
http://www.nsktrade.com
and
http://www.myclear.org.my
shall prevail over any inconsistent terms and conditions contained in any other promotional or advertising materials for the Promotion. In the event of any inconsistency between the English and Bahasa Melayu version, the English version shall prevail.

21) The Promotion Terms and Conditions shall be governed and construed in accordance with laws of Malaysia.

22) Any questions and enquiries about the Promotion, please email to Ms. Ong Bee Ching at This email address is being protected from spambots. You need JavaScript enabled to view it. at any time during Promotion Period.
PROGRAM PENEBUSAN MYDEBIT CARD ("PROMOSI") - Bahasa
TERMA & SYARAT
PENGANJUR
1. Promosi ini dianjurkan oleh
MALAYSIAN ELECTRONIC CLEARING CORPORATION SDN. 
BHD. (No. Pendaftaran Syarikat: 836743-D) ("MyClear") dan NSK TRADE CITY SDN BHD (No. 
Pendaftaran Syarikat : 626470-P) ("NSK") (yang dirujuk sebagai "Penganjur").
2. Dengan menyertai Promosi ini, Peserta dianggap telah membaca, memahami dan bersetuju 
untuk mematuhi dan terikat dengan terma dan syarat Promosi ini, Perlindungan Data & Notis 
Privasi seperti yang diperincikan di bawah, dan segala pindaan, penambahan, penggantian 
pemotongan dan pengubahsuaian kepada Perjanjian ini ("Terma dan Syarat") sebagaimana yang 
dibuat dari semasa ke semasa oleh Penganjur dan terikat oleh mereka dan mematuhi keputusan 
Penganjur.
TEMPOH PROMOSI
3. Promosi akan berlangsung mulai 00:00 hours (GMT+8) on 10 June 2017 hingga 23:59 (GMT+8) hours on 31 August 2017.
KELAYAKAN PESERTA
4. Peraduan ini terbuka kepada pelanggan NSK yang berbelanja dan membayar pembelian mereka 
di kedai-kedai NSK menggunakan MyDebit melalui kad ATM yang dikeluarkan oleh Institusi 
Kewangan MyDebit mengambil bahagian di Malaysia ("Pelanggan"). Hanya Pelanggan yang 
berumur lapan belas (18) tahun ke atas dan mempunyai dokumen pengenalan diri yang sah 
(contoh: kad pengenalan atau pasport) layak untuk mengambil bahagian dalam Promosi (
"Peserta").
5. Peserta harus mempunyai akaun dengan mana-mana Institusi Kewangan MyDebit yang mana 
akaun tersebut hendaklah sah, aktif dan mempunyai status pembiayaan yang baik semasa 
tempoh Promosi sehingga penebusan Hadiah Promosi. Peserta hendaklah mematuhi syarat 
kelayakan di atas untuk menjadi seorang "Peserta yang Layak".
KRITERIA KELAYAKAN
6. Pembelian oleh Peserta yang Layak melalui MyDebit dengan jumlah minimum sebanyak Ringgit 
Malaysia Satu Ratus (RM 100.00) dan ke atas dalam satu resit di mana-mana outlet NSK layak 
untuk Program Penebusan. Walau bagaimanapun, hanya traksaksi sentuh dan tanpa sentuh 
MyDebit diterima dan layak untuk menyertai Promosi ini.
7. Transaksi MyDebit hendaklah dibuat semasa Tempoh Promosi dan mematuhi syarat dan kriteria 
kelayakan yang dinyatakan di atas, untuk dianggap sebagai layak meyertai Program Penebusan. 
Transaksi yang dibuat /diterima di luar Tempoh Promosi tidak akan diterima. 
8. Pelanggan hendaklah merujuk kepada resit pembelian untuk memastikan bahawa mereka layak 
untuk menebus Hadiah seperti yang dinyatakan di bawah (rujuk item 11). Penebusan hendaklah 
dibuat pada hari yang sama di outlet NSK di mana Pelanggan membuat transaksi MyDebit 
tersebut.
9. Setiap Peserta yang Layak hanya boleh menebus maksimum dua (2) paket beras (iaitu 1kg s
etiap paket beras bagi setiap transaksi MyDebit sebanyak RM100.00) dalam satu resit tanpa 
mengira jumlah pembelian dan tertakluk kepada yang syarat and kriteria kelayakan yang 
dinyatakan di atas
HADIAH
10. Satu paket beras 1kg boleh ditebus untuk setiap transaksi MyDebit sebanyak RM100.00 dan ke 
atas dalam satu resit.
11. Peserta yang Layak hanya boleh menebus maksimum dua (2) paket (1kg setiap paket) untuk 
setiap resit.
12. Melainkan jika dinyatakan dalam terma dan syarat, sebarang permohonan untuk penggantian 
atau pengubahsuaian Hadiah oleh Perserta, tidak akan dilayan.
13. Pertukaran Hadiah kepada wang tunai adalah tidak dibenarkan.
14. Pihak Penganjur berhak untuk menggantikan Hadiah yang ditawarkan di dalam Promosi ini 
dengan hadiah yang sama nilai.
TERMA & SYARAT AM
15. Penganjur berhak untuk meminda, mengubah, memadam atau menambah mana-mana Terma 
dan Syarat Promosi dan/atau untuk mengubah suai, membatalkan, menamatkan atau 
menggantung Promosi ini pada bila-bila masa tanpa notis. Tiada pampasan dalam bentuk wang 
tunai atau sebarang bentuk lain akan diberikan bagi apa-apa kerugian atau kerosakan yang 
dialami atau ditanggung oleh Peserta yang Layak akibat daripada keadaaan-keadaan tersebut.
16. Setakat yang dibenarkan oleh undang-undang, pihak Penganjur tidak menawarkan sebarang 
jaminan, yang tersirat atau berkanun berhubung dengan Promosi, Hadiah Promosi serta 
termasuk tetapi tidak terhad kepada kualiti dan kesesuaian untuk tujuan berkenaan dngan 
Hadiah.
17. Pihak Penganjur tidak akan bertanggungjawab dan tidak akan menanggung sebarang liabiliti 
dalam apa jua yang timbul atau dialami oleh mana-mana Peserta yang Layak yang disebabkan 
secara langsung atau tidak langsung daripada Promosi ini.
18. Dengan menyertai Promosi ini, Peserta yang Layak memberi keizinan dan kuasa kepada 
Penganjur untuk mengumpul, menggunakan, memproses nama, nombor kad pengenalan dan 
butir-butir lain ( "Data Peribadi") bagi tujuan menjalankan Promosi, termasuk tetapi tidak terhad 
kepada mengumumkan dan penerbitan Data peribadi dan/atau gambar Perserta di laman web 
Penganjur untuk tujuan pengiklanan dan publisiti.
19. Semua keputusan yang dibuat berhubung dengan Promosi ini adalah muktamad.
20. Dengan menyertai Promosi ini, Peserta yang Layak bersetuju untuk terikat dengan Terma dan 
Syarat Promosi ini. Terma dan Syarat yang terkandung di dalam laman web pihak Penganjur 
http://www.nsktrade.com dan http://www.myclear.org.my mengatasi mana-mana terma dan syarat 
yang tidak konsisten yang terkandung dalam sebarang bahan promosi atau pengiklanan lain 
untuk Promosi. Sekiranya berlaku apa-apa percanggahan antara versi Bahasa Inggeris dan 
Bahasa Melayu, versi Bahasa Inggeris akan diguna pakai.
21. Terma dan Syarat ini dipantau dan ditafsirkan mengikut undang-undang Malaysia.
22. Sebarang soalan dan pertanyaan mengenai Promosi ini, sila emel kepada Cik Ong Bee Ching di 
alamat This email address is being protected from spambots. You need JavaScript enabled to view it. sepanjang Tempoh Promosi.